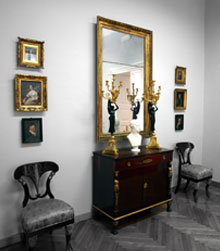 The Marton Museum
Marton Museum is the first privately owned  museum in Croatia and one of a few private museums in this part of Europe. It was founded by Veljko Marton with the intent to make wonderful works of art from his art collection accessible to the public. The idea of a museum emerged following the astounding success of the exhibition held in the Museum of Arts and Crafts in Zagreb in 2002 where he presented a part of his collection. Soon afterwards, nineteenth century manor, in which Mr Marton had lived with his family, was turned into museum opened on International museums day on May 18th, 2003.

Soon after the museum opened it's doors, it assumed the position of a significant tresure-house of European decorative arts from the second half of the 18th and the first half of the 19th century.                                    

Through its new acquisitions, numerous exhibitions and publications, the Marton Museum is a true flurry of activity. Whether it be within its home base, or outside the borders of Croatia, the museum's ultimate aim is to heighten public understanding and appreciation of not only European decorative art, but art in general. Fostering a cultivated knowledge of European art is the major principle upon which the Marton Museum was founded.