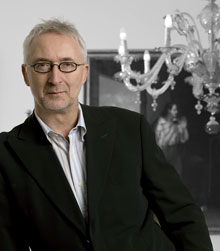 Veljko Marton – curriculum vitae
Veljko Marton was born in Zagreb and, after having completed most of his early education in the former Yugoslavia, went on to study at the University of Miami after having completed his Diploma in Economics at the University of Zagreb. An avid sportsman, he competed on the professional tennis circuit for years before parlaying his athletics into a successful business career spanning across North America, Europe, and North Africa. In addition to his museum, Mr. Marton is CEO and Director of Martimex, a multinational importer-retailer of luxury goods. He is fluent in English, French, Italian, German, and his native Croatian.

From an early age Mr. Marton was drawn to the world of art and frequently visited exhibitions and museums at home and abroad while travelling. This acute interest in the applied arts spurred his interest in collecting and he subsequently made his first acquisitions, first in Zagreb and then further afield.

His first love was for items of silver, glass, and furniture, yet in time his area of interest shifted to painting and then, ultimately, to porcelain. What first began as a hobby, done occasionally out of pure pleasure, soon evolved into a passion as his acquisitions grew in both number and quality over the years.

There was one other major factor that would go on to influence the future path of Mr. Marton's collecting, and that is his desire to demonstrate how Croatia belongs to Central European cultural circles, specifically in the area of fine arts and crafts. As such, many works that can be found in the museum are related to Croatia, and sometimes even to the museum's hometown of Samobor.